We recognize that all our patients are unique and deserve to receive orthodontic care that reflects their individual needs. Our experienced and talented team is committed to working with you and your family to create a comfortable, stress-free, and rewarding orthodontic experience every time you visit our practice.
We are pleased to welcome you and your family, and we look forward to working with you.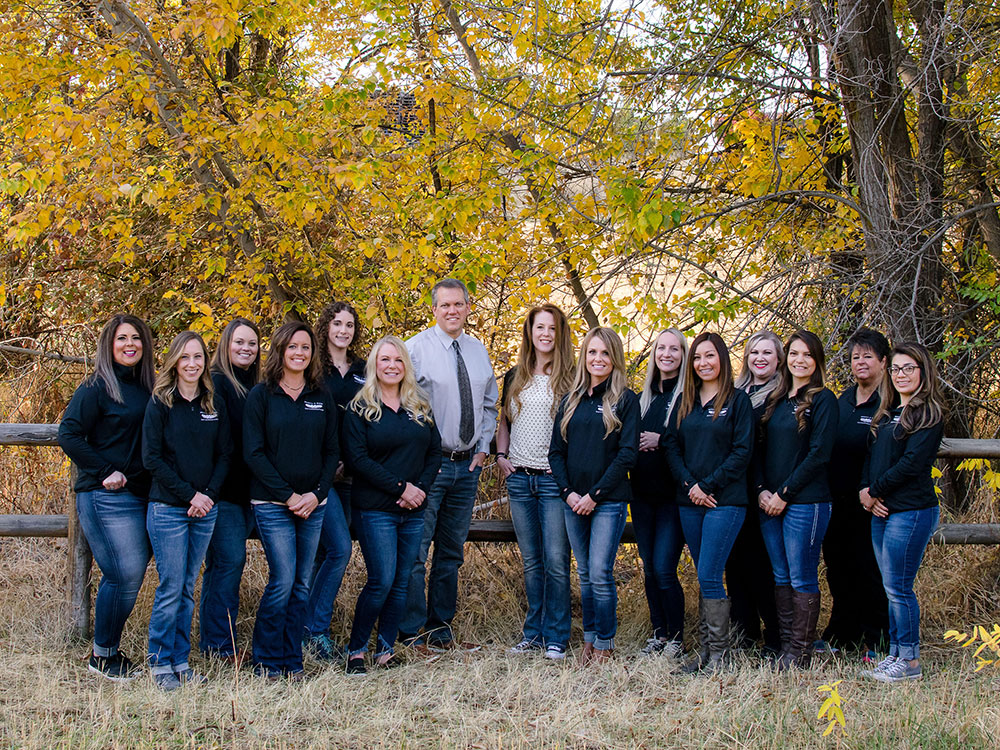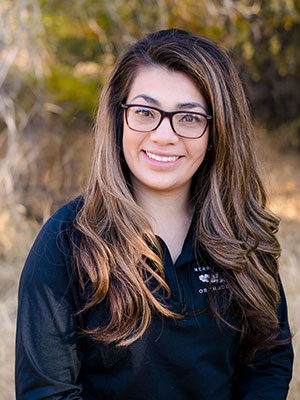 Alyssa
Clinical Assistant
I assist Drs. Merrill and Week while they are placing brackets and work with patients during reoccurring appointments. Since I was very young, I wanted to pursue a career in dentistry, and accomplished my goal in 2013. I love working here at Merrill & Week Orthodontics! The environment is awesome, our patients are great, and our team is second to none. Together, we are always laughing and make each day the best.
I have a husband of four years and two beautiful babies, Obadiah and Evalee. We also have a fur baby, Ruby. We love all things sports—watching and playing! Football, basketball, and soccer are our favorites.

Cassidy
Observation Coordinator
I work with our younger patients—those who are not quite ready for treatment. I love building relationships with all the kiddos. I cherish each and every one of my patients and hope to make coming to the orthodontist a positive experience. I consider it a privilege to learn from two of the most amazing minds daily. Our doctors continue to impress me with their vast intellect. Not only do I love my job, but I also love the people I work with, too!
I was born in Anchorage, AK, where I played competitive fast pitch for 12 years. I now live in East Wenatchee. Most weekends, I am hanging out with my husband Levi and beautiful niece Journee, and watching the Seahawks. We also have a boxer named Jaxon and he has a best friend who is a cat named Pip!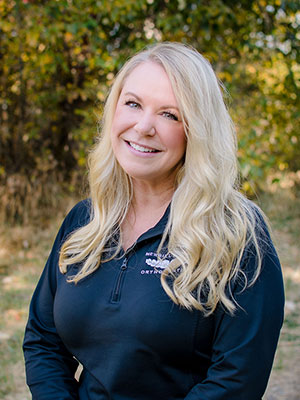 Cindy
Treatment Coordinator
I am the first person our new patients meet as I guide them through the new-patient process. I enjoy getting to know new people and helping them feel comfortable and informed about our practice and with the process of orthodontic treatment. It's been my pleasure to be a part of this team for more than 25 years. As a team, we truly enjoy enriching the lives of our patients.
I have a very full, active life outside the practice. My husband and I have four smart, beautiful girls who keep us running! Our two oldest are in college and our youngest are still at home. As a family, we enjoy playing and watching sports, traveling, and being with our yellow lab and two cats. We are all very social and involved in our community.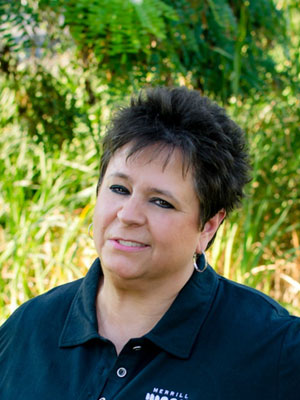 Debbie
Financial Coordinator
When it comes to patient accounts, payment options for treatment, and insurance, I'm first on the list for patients to contact. I have worked in the orthodontic field for more than 22 years, and it has been a pleasure to be a part of the amazing team at Merrill & Week Orthodontics for the entire time. Over the years, we've become like family and are very supportive of each other. We work together to make a difference, not only in our patients' lives, but in each other's as well.
I grew up in Colorado but moved to Dallas, Texas as a young adult. I settled in East Wenatchee in 1995. I enjoy spending time with my family, which includes my husband, three adult children and four grandchildren. I love to travel and do it as often as possible. My favorite destination by far is Maui, but I also enjoy the Oregon coast and visiting my family in Texas.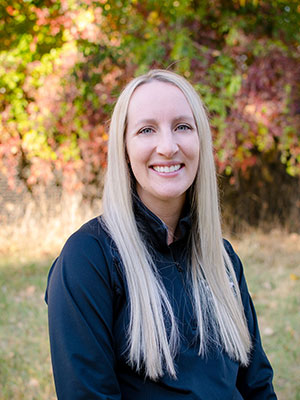 Kelsi
Clinical Assistant
I began my career in Blaine, WA, in 2013 and have grown to love general and specialty dentistry throughout the years. The best part of orthodontics is working side by side with our two amazing doctors and a team full of awesome women! This job is very rewarding. I leave work each day knowing that I helped boost confidence and changed the lives of our patients through orthodontics.
I am engaged to a wonderful man, Jordan. We have two children Willow and Wren and a Weimaraner named Ottis. We like to be outdoors together and spend time with all of our family.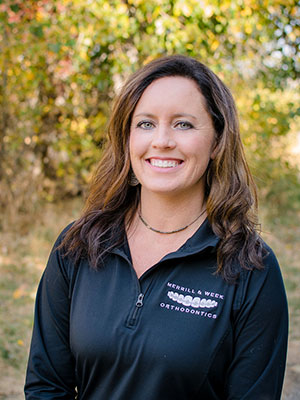 Melissa
Clinical Coordinator
I work side by side with Drs. Week and Merrill with patient care, in addition to overseeing the clinical areas and making appliances in the lab. I love getting to see the smiles of our patients throughout treatment, watching as their self-confidence grows. Everyone in our office is like family. I love to see how caring and compassionate our entire team is.
I've been married to Jesse since 2003. We have two dogs, Roxie and Gracie, and a cat—our fur babies! I absolutely love the outdoors! Most weekends Jesse and the dogs and I explore our beautiful mountains. We love to hike, camp, and spend time on the water. I also enjoy a good book, great food, and spending time with amazing family and friends.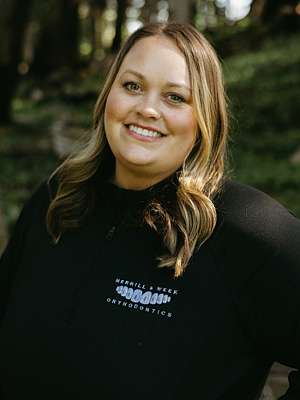 Morgan
Lab Technician/Clinical Assistant
I have worked in orthodontics ever since graduating from Central Washington School of Dental Assisting in 2013. I create our patients' retainers and appliances, in addition to helping at chairside when needed. Helping people feel better about their smiles is one of the many reasons why I enjoy going to work each day. I recently began working in the lab, where I get to work with my hands and build appliances. I know what I do plays a part in our patients' happiness, and that makes my heart happy.
I am a lifelong resident of Waterville and couldn't be more proud. Having grown up in the country, I love to be outdoors, camping, boating, and riding four-wheelers. My friends, family, and English bulldog Tonka are my greatest blessings. I am getting married in June to my best friend and look forward to my future as a farmer's wife.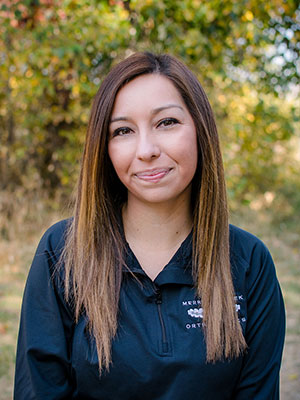 Veronica
Scheduling Coordinator/Internal Marketing
I am responsible for clerical work and scheduling, as well as our social media and ongoing patient contests. I love getting to meet new people and seeing patients thrilled about their new smiles when their braces come off. Working with this team is like working with family—we all have a lot of fun!
I am a small-town girl from Cashmere. I have a funky puppy named Ace. In my free time, I like to go hiking and be outdoors, explore new places, and make new memories with loved ones. I also love coffee and shopping at Target!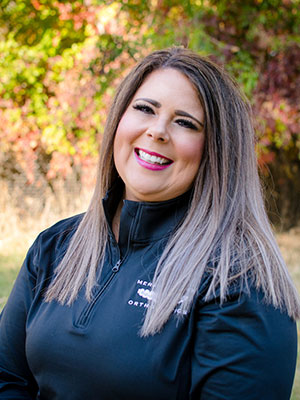 Karlye
Treatment Coordinator/External Marketing
As a treatment coordinator, I am one of the people who our patients meet when they first come to our office. Through external marketing, I get to work with the community involving our sponsorships, donations, and volunteering. I love to meet new patients and be an important part of their lives. I also enjoy getting out in the community to network.
I am married to my husband Jeremy and we have one daughter, Chloe. We love to travel as much as possible—Hawaii is always calling our names! I love to bake and try new recipes—my family calls me "Betty!"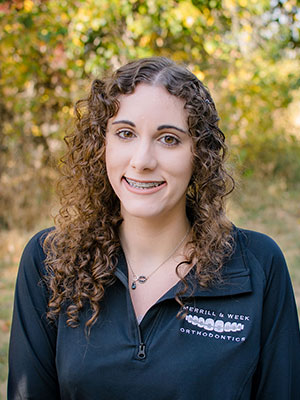 Stephanie
Scheduling Coordinator
I can be found at our front desk, where I schedule appointments, field phone calls, and follow up on patients' visits throughout their treatment. Working one-on-one with patients is the best part of my job. I enjoy seeing them progress and then how happy they are with their smiles. We have a great family atmosphere in our office—a true sense of family and full of compassion.
I was born and raised in East Wenatchee. I love to be outside! My greatest passion is hiking and I'm always on the lookout for my next great adventure. I also enjoy wakeboarding, boating, snowmobiling, and spending time with my family and friends. They are very important to me and I love sharing life with them.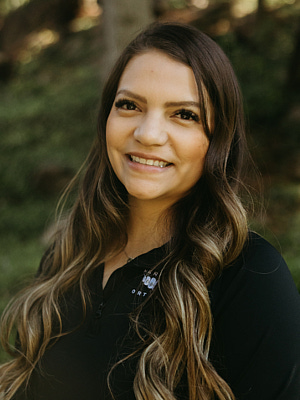 Candy
Clinical Assistant
I've been a part of the Merrill & Week Orthodontic team since 2018. I love getting to know our patients and building a relationship with them throughout treatment. Our doctors and team are like one big happy family! I truly consider this my second home. At home, I have two wonderful little boys. I love the outdoors and, in the summer, enjoy going to Lake Chelan. I come from a big family so family time is really important to me. I always have family gatherings on the weekends!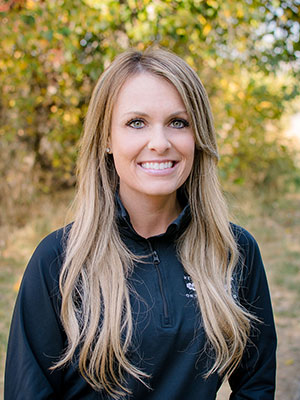 Kelly
Clinical Assistant
I graduated from Central Washington School of Dental Assisting in 2018 and joined Merrill & Week Orthodontics right away! I assist the doctors with patient care, take care of sterilization, and take records prior to treatment. It's wonderful to be a part of changing someone's outlook on life by giving them a smile they can be proud of. It's such a blessing to work with such genuinely kind, generous people every day.
I have three amazing daughters who I love more than anything. We love to go to the park or just cuddle up on the couch with their favorite books. My faith in Jesus Christ is vital to who I am.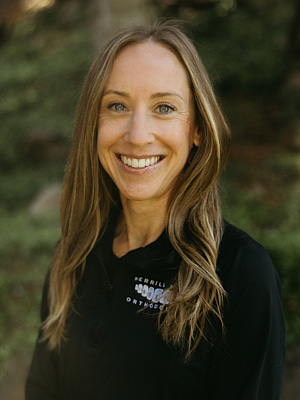 Jodi
Clinical Assistant
I went to West Coast College of Dental Assisting in 2013 and joined our team in 2017. I love orthodontics and would never work in any other field! It's so rewarding to see our patients from start to finish, and witness the transformations in their smiles and their confidence. I feel blessed to be part of this family.
I have been married for nine years. We have two wonderful girls, ages three and five. My husband and I enjoy staying active by camping, biking, and skiing. We also love to travel and explore new places!